Main content starts here, tab to start navigating
We change our nightly features 3 to 4 times a week and we always have great Plant Based and Gluten Free options.
Slide 1 of 3
Slide 2 of 3
Slide 3 of 3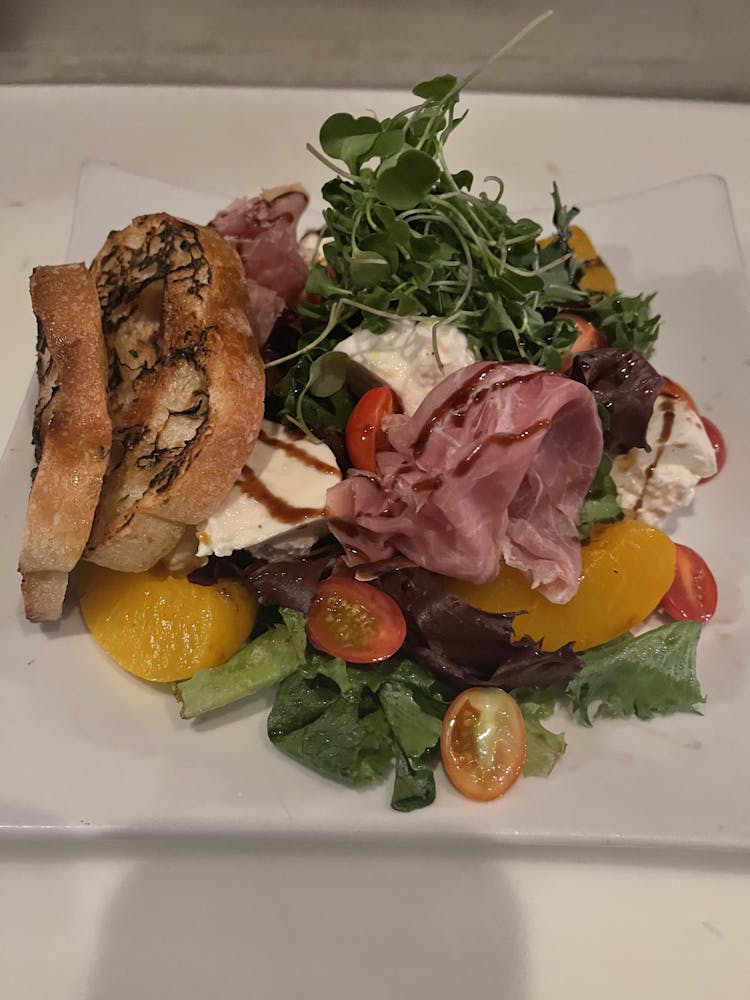 GRILLED CAESAR

GARLIC TOAST POINTS, ANCHOVIES

$12

Add grilled chicken $6

Caprese

Mozzarella, tomato, basil

$14

Add prosciutto $4

ADD EGGPLANT CUTLETS $8

ARUGULA SALAD

TOASTED PINE NUTS, SHAVED PARM, LEMON, OLIVE OIL

$10

STUFFED MUSHROOMS

GOAT CHEESE, RICOTTA, GUANCIALE

$10

House Meatballs

Ricotta

$18

Heirloom Tomato Bruchetta

$10
Eggplant Parm

$20

Chicken

Milanese, artisanal greens $25

Parmigiana, penne $27

CONFLITED PARM

HALF EGGPLANT AND HALF CHICKEN WITH PENNE POMODORO

$25

Rigatoni Agliolio

Grilled sausage, broccoli rabe

$25

Penne Alla Vodka

Prosciutto, peas

$24

PAPPARDELLE BOLOGNESE

$25

GRILLED SAUSAGE

BROCOLI RABE, ROASTED RED PEPPERS,AND ONIONS, GARLIC

$25

Rigatoni Aglio E Olio

sausage, broccoli rabe, roasted red peppers

$25

SPAGHETTI POMODORO

$18
Our Features change 2 to 3 times a week. Please call us to discuss Gluten Free options. We can also offer a Prix Fix Wine Paired Dinner from 3 to 7 courses from our 150 bottle wine list.
TONIGH'TS FEATURES
WILD MUSHROOM RAVIOLI

ROASTED GARLIC CREAM AND POCINO CREAN SAUCE, SPINACHM AGED BALSALMIC GLAZE

$23

BURRATA

PROSCIUTTO, TOASTED PISTACHIOS, ARUGULA, BALSALMIOC VINAIGRETTE, CHERRY TOMATOES, ROASTED RED PEPPERS

$18

VEGETABLE SCAMPI

DICED TOMATOES, ZUCHINNI, HARISSA SPICED BUTTERNUT SQUASH. BABY BELLA MUCHROOMS, EDAMAME PASTA, GARLIC, LEMON

$22

PARK SOUTH GRAVY

BRAISED POK, MEATBALL, GRIILED ROPE SAUSAGE, RED SAUCE, RICOTTA, PARM, THIN SPAGHETTI

$28

BRAISED LAMB PAPPARDELLE

$26

SALMON PICCATA

SPAGETTTI, SPINACH CHEERY TOMATOES

$24

CHICKEN ALMAFI

Artichokes, Mushrooms, Cherry Tomatoes, Lemon Caper White Wine Butter Sauce

$25
Features
Charcuterie

Prosciutto, Salami, Chorizo, Coppa, Whole Grain Mustard, Red Wine Goat Cheese, Brillat-Savarin, Gorgonzola Dolce, Cornichons, Berry Preserves

$26

Burrata

Fried green tomatoes, heirloom tomatoes, roasted tomato basil pesto

$15

Butter Poached & Grilled Grilled Cauliflower

Harissa, crispy onion, toasted almonds, gremolata, yougurt

$16

Heirloom Tomato Bruschetta

Basil pesto, aged balsamic reduction

$10

American Kobe Burger

Cherry Bacon Jam,Lettyce, Tomato, Brioche Bun, Fries

$18

Duck Breast

Sweet Potato & Basil Filled Culugiane Pasta. Crispy Suger Snapp # Plum Salad, Red Wine Duck Jus

$28

Linguini Fra Diavalo

Italian Sausage, Scungill

$24

Sangria Braised and Chargrilled Octopus

$19

Grilled Calamri

Roasted Garlic, Lemon, Greens

$16

Beet Salad

Arugula, Candies Walnuts, Goat Cheese, Red Vine Vinaigrette

$15

Porchetta Roulade

Fontina nd Roasted Red Pepper Pork Tenderloin with Broccoli Rabe and Roasted Potatoes

$24
30% off al Wine by the Glass for Happy Hour!
$6 Appetizer Specials.
5:00 PM - 6;30 PM Tuesday through Saturday
Bites
Tomato Basil Bruschetta

$6

Meatball

Marinara and Ricotta

$6

Grilled Calamari

$6